10/10/2012 9:13:00 AM
Madhya Pradesh Council of Science & Technology visits Adalaj Trimandir
Senior Scientist Dr. D. K. Umak, Mrs. Usha Dande, Scientist Mr. Vikas Shende along with other teachers came with students from various schools of MP.
All these class 9 students are toppers getting results above 95%.
They stayed at 'Stop n Stay' for 3 days and visited Science City and other science exhibitions in Ahmedabad, Gandhinagar.
With courtesy of a mahatma, all these students, teachers and scientists were given sets of Dada's Books for their respective schools and registered to receive monthly "Akram Express" subscription for 1 year.
Number of Students: 85
Teachers of various schools also joined them...
Mr. Prashant Kumar Sahu - Govt. H.S.School Shahpur, Distt. Dindori, M.P.
Dr. Navneet Narolia - Govt Pt. L. S. Jha Model Higher Secondary School of Excellence, Jabalpur.
Mr. Prakash Parmar - National Adarsh Dhakad Vidyapeeth, Dharasikheda, Badnawar District Dhar MP.
Mr. Anil Verma - MODERN H.S.SCHOOL, OLD ITARSI.
Mr. Matlub Ahmed - Jawahar Navodaya Vidyalaya,Beekar,Datia(M.P)
Mr. Shiv Mohan Lodh - GOVT R. P. HR. SEC. SCHOOL OF EXCELLENCE INDRAPURI COLONY, PANNA.
Ms. Suwarna Kharche - Govt.High School Sindhakheda Kala, VillageSindhakheda Kala, Tehsil-Khaknar, Dist-Burhanpur(M.P.)
Mrs. Karuna Verma - Govt. Divisional Residential School, Katara Hills, Bhopal.
Mrs. Uma Sisodiya - Carmel Convent Sr Sec. School, Amlai M.P
Ms.Sarika Gharu - Govt.H.S.School Sandiya, Pipariya, Dist. Hoshangabad, MP.
All our sevarthis from Unodari, Stop n Stay, Trimandir really enjoyed their visit.
Darshan of Simandhar Swami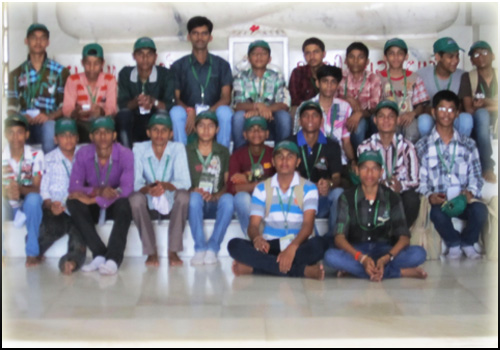 Lining up for lunch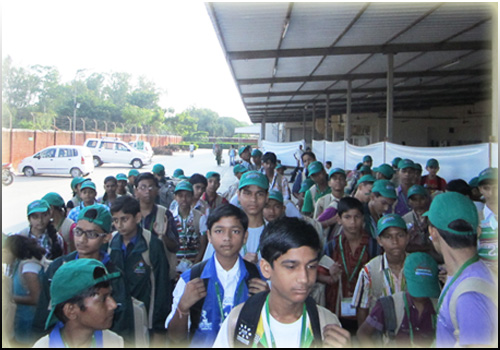 Waiting for breakfast at Unodari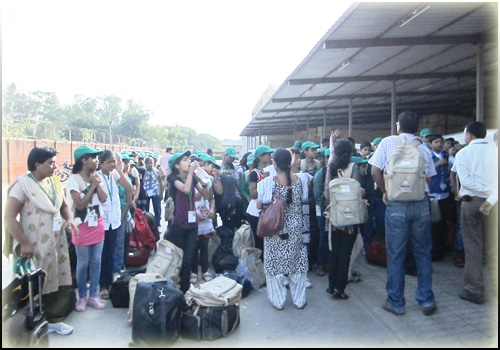 Listening attentively to story of Simandhar Swami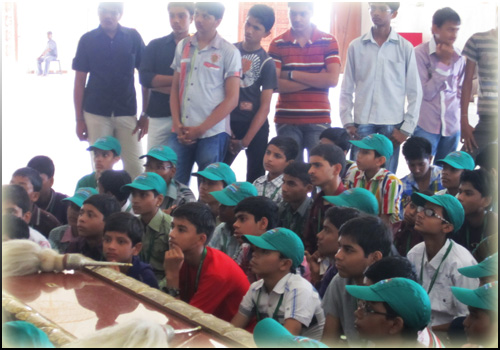 Posing with teachers, scientists and Unodari sevarthis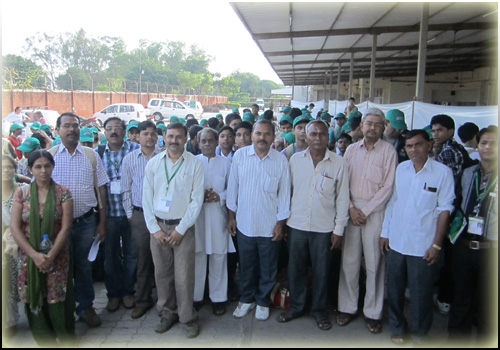 Posing with teachers, scientists and Unodari sevarthis 1