Tulsi, a little girl, had recently shifted to a new locality with her parents. The next morning she got up early and got ready to visit the nearby temple with her mother. Tulsi and her mother climbed the temple steps talking about various Gods & Goddesses in that temple when all of a sudden Tulsi's eyes fell on the main idol of the temple. "Wow, it's amazing, what a huge idol," saying so Tulsi ran to the idol. The sweet smiling face and sparkling eyes of God amazed her.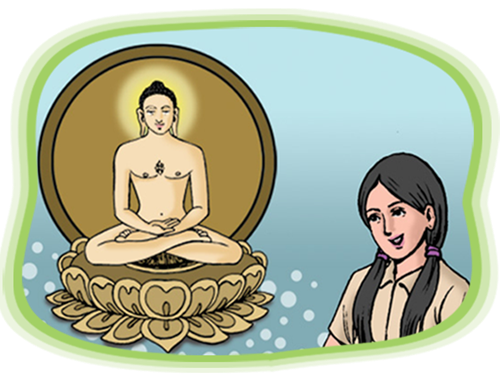 Filled with happiness, she spoke to the idol saying, "Will you be my friend?"
"Oh sure, why not!" said a magical voice from within the God.
Tulsi's excitement was boundless. She started conversing with God and the divine voice spoke with her!
Then suddenly Tulsi's mother called out to her saying they had to go back home. "We shall meet tomorrow. I'll bring my favourite chocolates for you. What gift will you give me?" enquired Tulsi.
"Love!" exclaimed God with a charming smile. With immense happiness she walked back home.
Tulsi got into the habit of conversing with God daily for hours after school. She would talk about any topic she felt like and God would accept her speech with a loving smile. The following Sunday she threaded a flower-garland for God and asked, "Lord, today I deserve more love from you, don't I?"
God smiled and replied, "My dear, there is no bargain in love. My love shall never increase or decrease under any circumstances, even whether or not you honor me with a garland." She was amazed with the answer and immediately hugged God with love.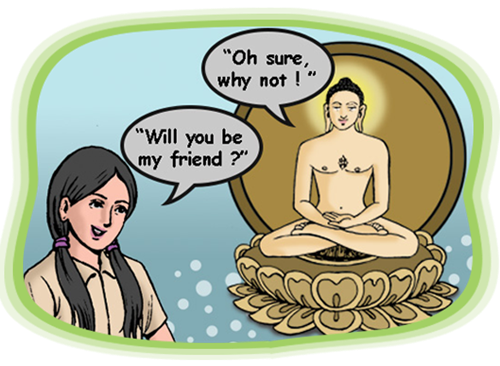 One day Tulsi made a new friend at school. She got so lost in playing with her that she forgot to visit the temple and meet God for two whole days. On the third day she visited the temple and asked God, "Lord, I forgot to visit you for two days, are you angry with me for this?"
At this God replied, "No no, not at all my dear! Love is unconditional. There are no expectations in pure love." Tulsi respectfully bowed down to God's pure love and promised to visit the Lord every single day.
One day, Tulsi had a quarrel with her neighbour Rahul, but she couldn't come back with much to say as he was older than her. Later that evening, she went to God and vented her anger on HIM saying, "You smile even when I am in misery. This proves that you don't love me," and left the temple.
After a little while, she realized her mistake and went back to ask for forgiveness. She was surprised to see God smiling at her as always even though she had misbehaved with HIM. Before she could say anything, God very lovingly said, "Dear, it's good that you are back."
Tulsi's heart stirred and tears rolled down her eyes. She put her face in God's lap and started weeping. "Sorry Lord, I love you. Please punish me."
God soothed her by saying, "Don't cry Tulsi. Just give me a promise that you'll spread the love you have experienced with me. You will give the same pure love to all you meet in your life...Promise?" Tulsi placed her little hands in God's hands and promised to love all, with the same purity. She understood the characteristics of pure love and thought, "Love is that which does not increase or decrease, which is consistent and which has no expectations."
So friends, you too shall bear the same kind of pure love for all, promise?
Related link : 
An article on Pure love

Magazines- Love