Wearing white but torn attire, Shree Sai Baba of Shirdi, as he was famously known, completely contradicted His appearance. He had an appearance of a fakir, but he, in fact, possessed the immense wealth of compassion and love. In the name Sai, 'Sa' stands for Shakshat (Living) and  'I' stands for Ishwar (God).
He was born on the stormy night of 27th September 1838, in the village of Pathri. As common folklore states, while passing through a forest, a childless Sufi, fakir Roshan Shah Miyah and his wife came across a deserted child (Sai Baba) and adopted him. They named him Babu. When the boy was 4 yrs old, Roshan, the Sufi fakir passed away; and his wife who had great affection for the child, was grief-stricken. She handed over the boy to a highly evolved soul, a pious scholar named Venkusa, who was living near her house.
Sai Baba became Venkusa's favorite disciple. Sai Baba stayed at Venkusa's ashram for twelve years and learnt many things. Since Venkusa considered Sai Baba to be a noble and divine soul, at the time of his death, Venkusa gave all his divine knowledge and powers (siddhis) to Sai Baba. After the death of his Guru, Sai Baba left the ashram and reached Shirdi.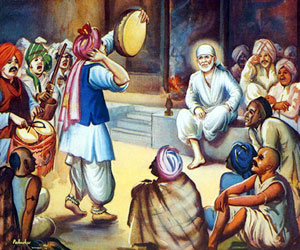 When Sai Baba first entered the Khandoba temple in Shirdi, the priest of the temple, Mhalaspati, addressed him, 'Aao Sai'. That is how Sai Baba got his name. Thereafter, Sai Baba started living in Shirdi. Initially, he used to live in Khandoba temple, but he would often sing aloud verses of the Quran in the temple. This offended many Hindus and they asked Sai Baba to leave the temple. The followers of Sai Baba, including the priest Mhalaspati, took Sai Baba to an old mosque in Shirdi. Sai Baba named the mosque 'Dwarkamai' and spent the rest of his life there. Sai Baba used to wake up at five in morning. Then, he would sit beside a smoke fireplace near the Dwarkamai mosque. Sai Baba ate food begged from alms; he begged for alms from five houses every day. Sai Baba divided the food he received into three parts: one for himself, second for his devotees and third for birds and animals. Thereafter, he would sit beside the fireplace and solve the problems of his devotees, give discourses which would then end with an evening prayer.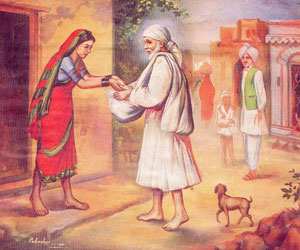 An outstanding aspect of Sai Baba is that he is beyond distinction of religion, caste or creed. Some believe him to be Hindu; others see him as a Muslim. A popular notion is that Sai Baba expressed himself as a Hindu to Hindus and as a Muslim to Muslims. However, in most cases Sai Baba acted vice versa, insisting that the Hindus should accept him as a fakir and the Muslims as a Brahmin!
Sai Baba shared the following message to the masses. Shraddha which means have faith in God; Saburi meaning have patience; Purity meaning have purity of heart and mind; Karuna Bhaav meaning have compassion towards all living things; Equality which means have impartial feelings for people of all religions and Aadhinta meaning to have followership and total surrender unto your Guru.
Whenever someone asked Gnani Purush Dadashri that, "If we are unhappy and suffering in misery, then what should we do? Who should we worship?" Then Dada used to say, "Worship Shri Sai Baba of Shirdi. Shri Sai Baba is working immensely towards helping people get rid of their miseries. He is such a great saint! Even now, he is bestowing worldly happiness. He has only one desire, and that is to relieve the suffering of the masses. What an absolutely pure and pious saint! A fakir without any attachments, he continues to be absorbed in the work of helping others."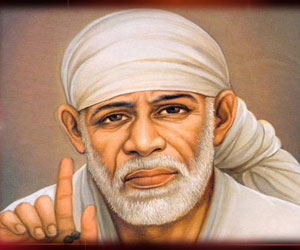 On the day of Vijay Dashmi i.e. 15th October 1918, Sai Baba breathed His last, but His name is etched in the hearts of His devotees even today.