Jai Satchitanand Friends!
Friends, we all look forward to Diwali vacation - to eat lots of yummy food and our favourite mithai (Indian sweets), decorate the house with diyas and rangolis, and expect lots of gifts from our parents, don't we? Is this all there is to Diwali? Are you curious to know the spiritual significance of Diwali?
Diwali is an important Indian festival that marks the end of the current year and the start of the New Year as per the Hindu calendar. The festival is celebrated over five days - Dhanteras, Kali Chaudas, Diwali, Bestu Varash (New Year) and Bhai Dooj (Bhai Bij).
History says:
• Diwali was the Harvest Festival as it took place at the end of the cropping season;
• Ram Bhagwan returned to Ayodhya after 14 years of vanvaas (exile). People decorated their homes and lit lamps to show Ram Bhagwan the way home;
• Diwali also marked the beginning of a new financial year for businesses.
The festival has represented the victory of Right Knowledge (Gnan) over ignorance (anger, pride, deceit and greed). 
Dhanteras
• This is the first of the five days that make up the Diwali festival.
• Dhan means wealth and teras is the thirteenth day of the month.
• Lakshmi Pujan is performed to ensure peace prevails in our homes. Goddess Lakshmi is the goddess of wealth and prosperity, and one of her rules is to not make or take money dishonestly.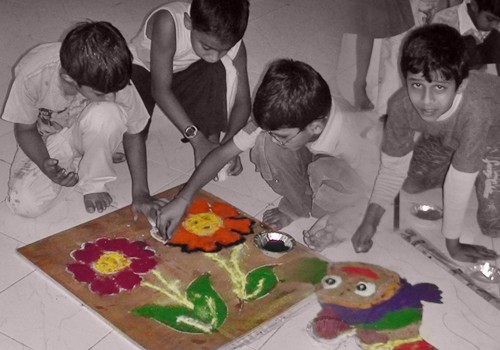 Kali Chaudas
• This is the second day of the festival and is also known as Choti Diwali.
• This is the day to abolish laziness and ignorance in our lives and allow the light of True Knowledge to brighten our path.
• According to Hindu mythology, the asura (demon) Narkasura was destroyed by Krishna and Kali Mata.
Diwali
• According to the Hindu calendar, Diwali is the 360th day, i.e. the last day, of the Hindu year. The circle of full spiritual development is 360 degrees.
• On this day, Lord Mahavira attained Nirvana (final liberation). His first disciple, Gautam Swami, attained Keval Gnan (absolute knowledge) on this day.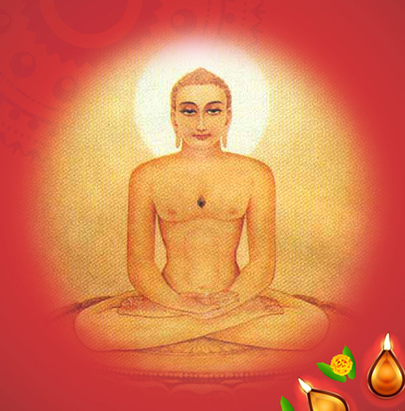 Bestu Varash­ (New Year)
• This is the first day of the Hindu New Year, which follows a lunar calendar.
• Dada Bhagwan is fully manifest (Poorna swaroop) on three days in a year - Guru Purnima, Janma Jayanti and Bestu Varash. At this time, we should ask for Shakti (energy) from Dada to understand the Spiritual Science. We should also resolve that from this day forward, we will not hurt any living creature with our thoughts, speech or actions.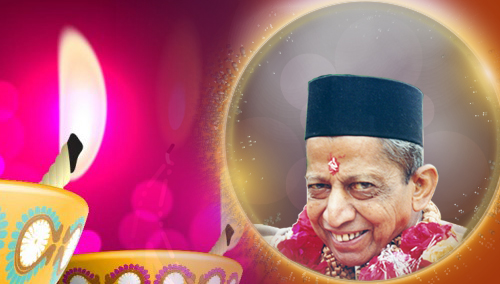 • Within the Trimandir, we also celebrate Annakut (literally meaning 'mountain of food') - this represents 'Govardhan Puja' and the food, after being offered to Krishna Bhagwan, is shared amongst the community.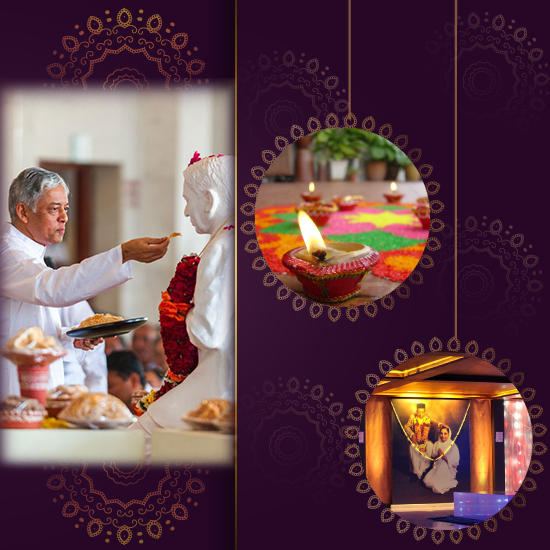 Bhai Dooj 
• This is the final day of the Diwali festival and celebrates the brother-sister relationship. Sisters perform puja for their brothers' safety and well being.
Related link :
Special video on Diwali
Moral story : Diwali with a difference
Sweet Memories : Celebrate Diwali like a King
Kids Blog : Diwali
Kids Blog: Children celebrating Diwali in Simandhar City
Mythological story: Importance of Diwali