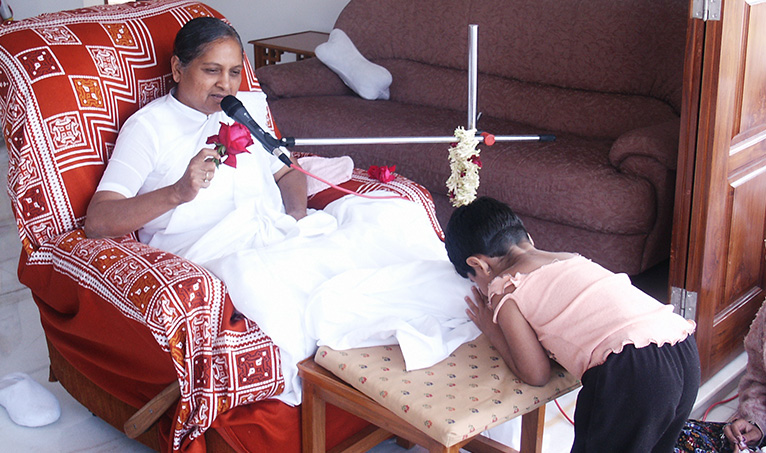 It was Niruma's birthday. The little girls staying in Simandhar City were going to make various delicacies for Niruma. One girl brought a sandwich for Niruma. For that little girl, Niruma was more special than even her own mother. So special that if her mother was not around it didn't matter, but she could not do without Niruma.
Offering the cheese sandwich to Niruma, she asked, "Niruma, will you have some cheese sandwich?"
Niruma replied, "No, I don't eat cheese."
When she asked Deepakbhai, he also refused stating that he did not eat cheese. Then Niruma asked the little girl, "Do you eat cheese?" She replied, "Yes." Niruma immediately put forth another question, "Do you want to get married?"
The girl replied, "No, Niruma, I want to practice brahmacharya (celibacy)."
Hearing this Niruma said, "Go, sit outside." The little girl left the room feeling disappointed.  She was afraid that Niruma might not call her back!
After a little while, Niruma called her inside and offered her a vegetable sandwich. "Come, try this and tell me how it tastes."
After eating it, the girl said, "It tastes yummy."
Niruma said, "In that case, promise me that from now on you will not eat cheese."
The girl promised without hesitation.
Niruma explained, "Cheese is not ideal for those who want to practice brahmacharya (celibacy)."
Then Niruma lovingly requested her, "Come, wash my hands." She washed Niruma's hands and went home happily.
See friends, even though we may not realize what may be a hindrance to our goal, but Niruma was greatly aware of this and would also take care to steer us out of it with so much ease!